Hi Samantha, what is the most popular item in the Cefinn collection this season?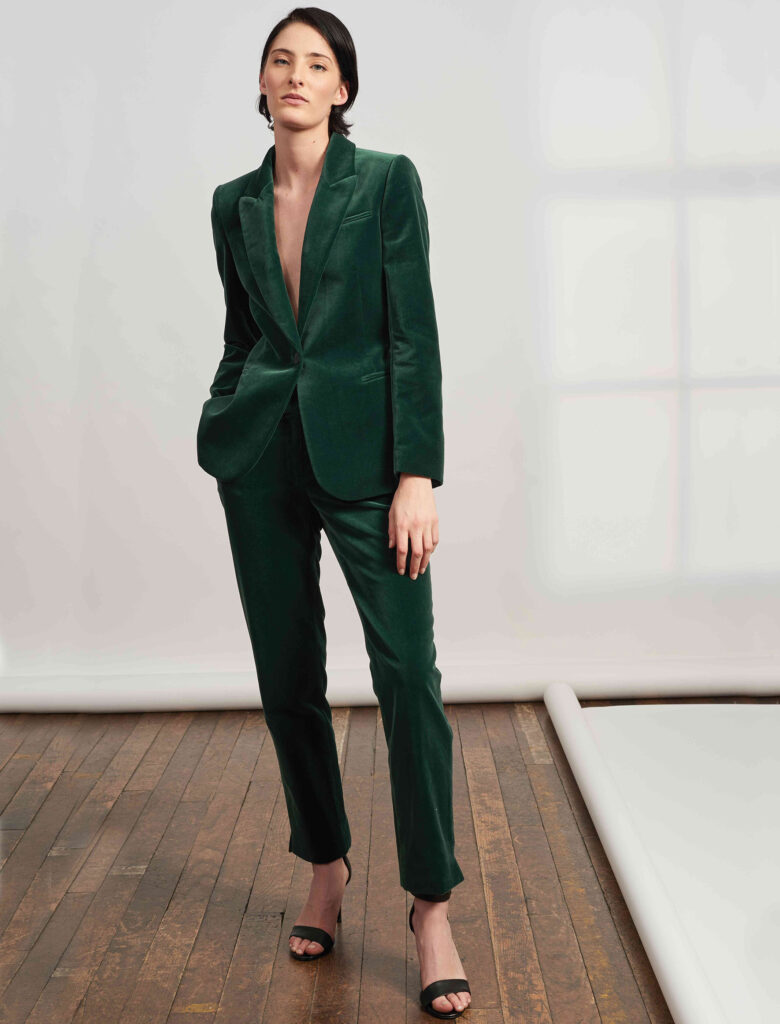 Our Forest Green velvet suit has been a huge hit. It's perfect for a Christmas gathering but the jacket looks super cool with a t-shirt and jeans as we head into spring and velvet trousers always look great when paired with a knit so it's very versatile.
What are your top style tips for being both comfortable and presentable whilst working from home?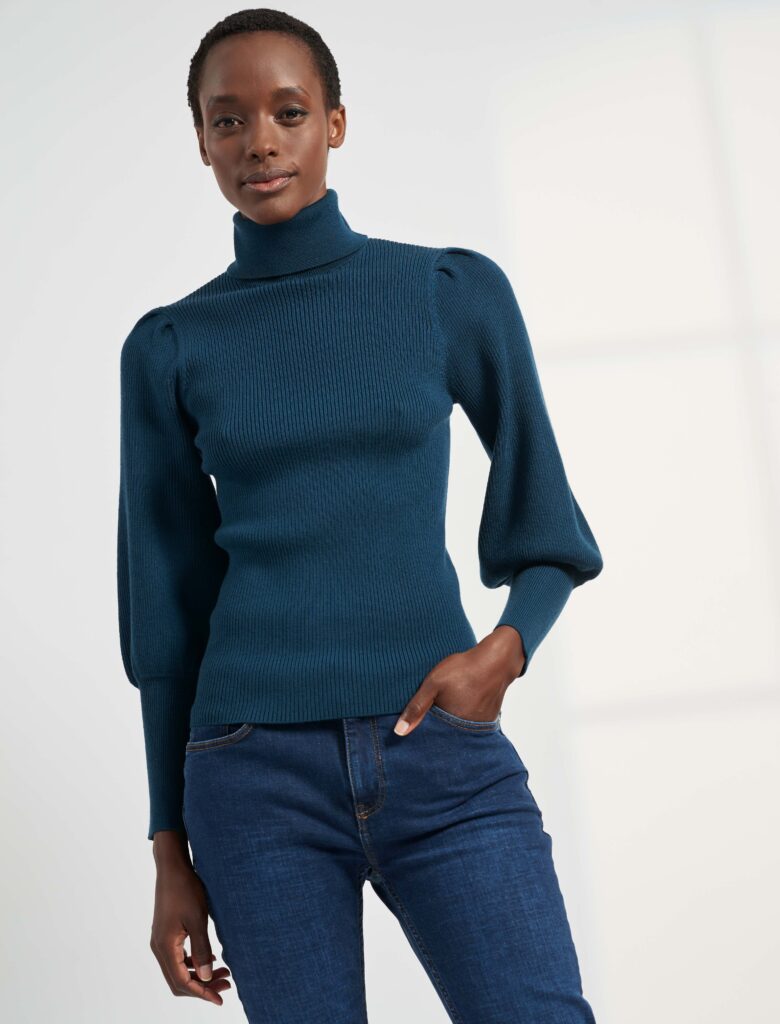 At the moment, smart knits are ideal. Our Eva jumper is ribbed and fitted in the body with a gathered shoulder and a blouson sleeve, so it looks really smart and fashionable as well as being comfortable to wear. It's also surprisingly practical, being machine-washable and pill-proof. I pair mine with our Terence Wide Leg Trouser which is made from a beautiful Italian wool with stretch and has a more relaxed waistband which makes it effortless to wear when you are at home. Both of these styles have sold unbelievably well for us this season. Other great working from home options are dresses with drawstring waists and jumpsuits which are so easy to throw on and look stylish and presentable in an instant.
What is the definition of 'smart/casual'?
An outfit that looks pulled together, thought through and obvious that you've made an effort but without being formal or corporate. So many things can be dressed up or down – it's all about how you style them.
Should working from home style be the same as office style?
For me getting up in the morning, doing my hair and make-up and getting dressed for work hasn't really changed when working from home. I'm in Zoom meetings from 9am and while I'm not necessarily wearing a pair of heels, I do want to look pulled together as what I wear makes me feel professional, organised and ready for the day. I also like to have some definition between what I wear for work versus relaxing at home.
Now that winter is approaching, what is your advice on how to dress appropriately for the drop in temperature whilst working from home when it is still important to be smart?
Smart knitwear and layering are a great way to go. A good lightweight, warm vest is essential for underneath blouses, shirts and dresses too!
Jacket/blazer – a good look for a professional zoom call when working from home or over the top? Discuss.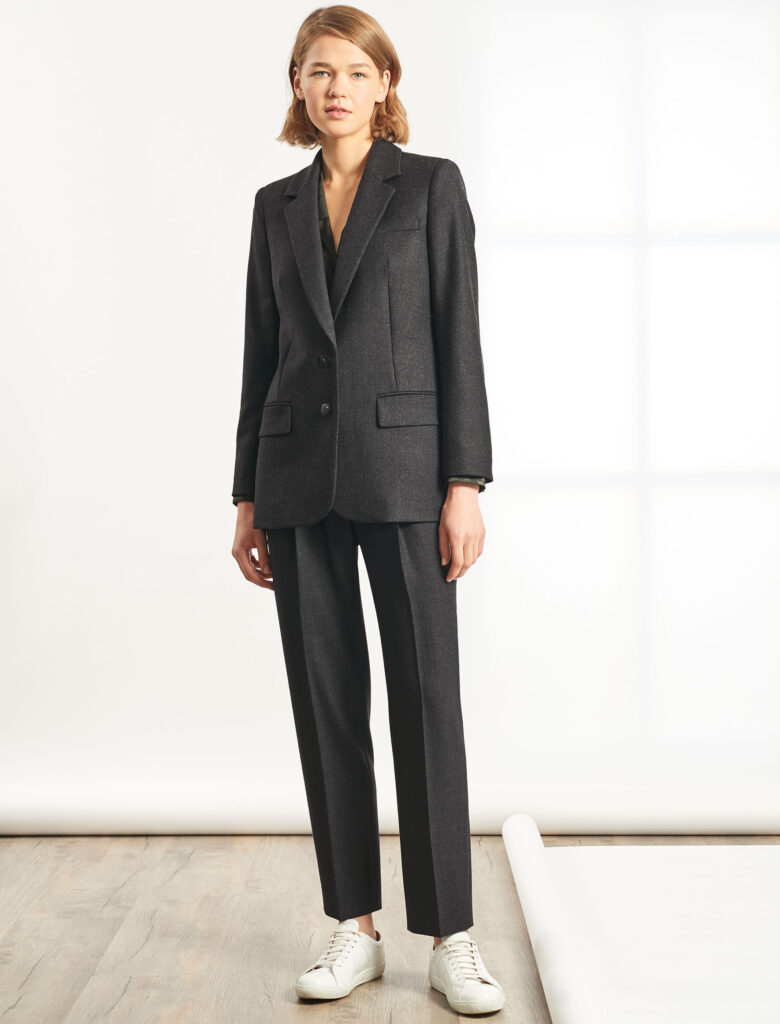 I think a blazer is always a good look and it doesn't need to be very formal. We have a beautiful jacket called Jordan in our collection this season which is a boyfriend style blazer in Italian stretch wool which I wear layered over a simple crew neck knit for zoom calls. It feels smart and on trend without being over the top or very corporate.
Are there any styles or colours that work particularly well for video calls?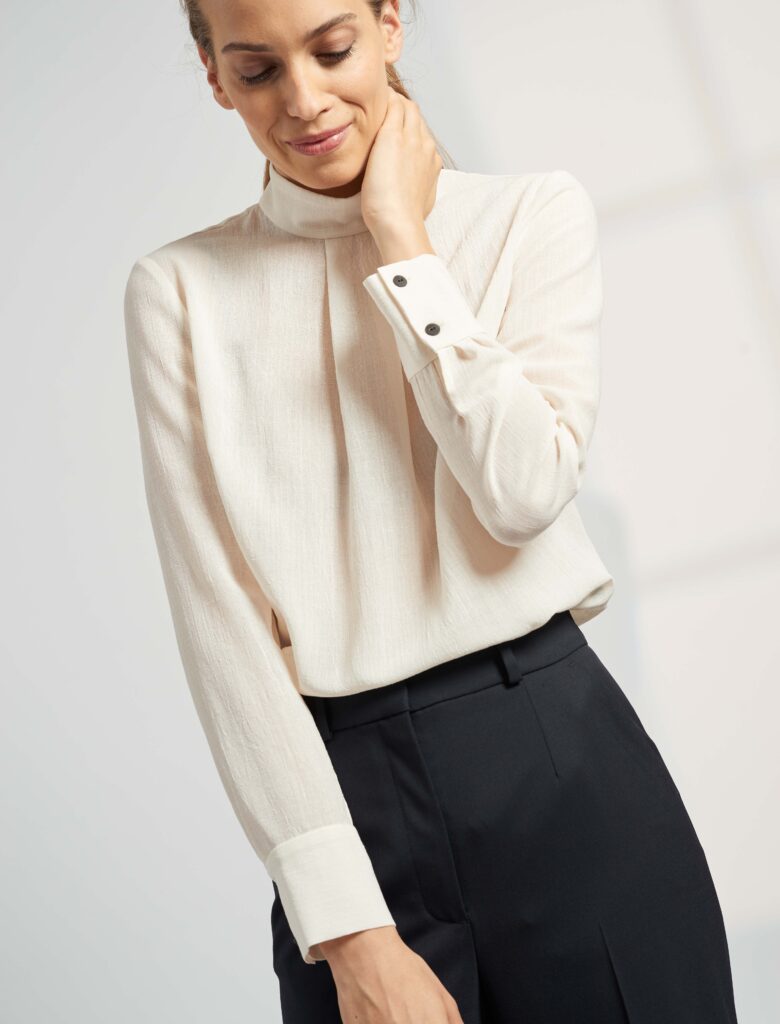 It really depends what you feel good wearing. Something that is beautifully cut, fits you really well and looks chic is always going to make a good impression but great colour and print can help you to stand out from the crowd and top-half detailing is obviously good for video calls – great collars, pussy bows or knits with interesting detailing etc.
How important is it to wear the 'right colour for me'?
I think most women have a good idea about what flatters them and wearing colours that suit you and your individual personality can help you to feel confident and good about yourself.
What would you suggest one wears for a virtual interview?
It totally depends on the type of job and role you are interviewing for but my feeling is that you should dress as you would for a face-to-face interview. You are saying you are the right person for the job whether you are working from home or from an office.
What are your top tips on how to dress to boost mood and confidence?
Colour and print can be great mood boosters and something really feminine always makes me feel uplifted. Looking down at what you are wearing and seeing beautiful colour or print always enhances your mood a little.
Do you think this period will change the way people dress in the office?
There has already been a shift to less formality at work which will probably continue. Having said that, many women still like to dress up as it is both empowering and fun. Many of us like an excuse to look smart and feel glamourous and I don't think that will go away.
Quick Fire – Fact or Myth
Black ages you.
Myth
Navy – timeless classic
Fact
Red and yellow catch a fellow
Myth
Pink and green fit for a queen
Fact
Brown and blue will never do
Myth – I love brown and blue together!
Blue and green should never be seen, except with something in between
Myth
Red and green should never be seen, except upon an Irish Queen
Fact